Bill Dobbins, jazz piano
Faculty Artist Series
December 3, 2018 | 7:30 PM
Hatch Recital Hall
Free to UR ID, Free to Current Season Subscribers
Buy Tickets
Or call our Box Office 585-274-3000
Bill Dobbins, jazz piano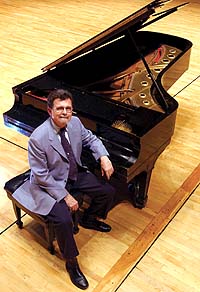 The Faculty Artist Series is generously supported by Patricia Ward-Baker. 
Bill Dobbins teaches courses in jazz composing and arranging, gives applied lessons to jazz writing majors, and directs the Eastman Jazz Ensemble and the Eastman Studio Orchestra. As a pianist he has performed with classical orchestras and chamber ensembles under the direction of Pierre Boulez, Lukas Foss, and Louis Lane, and has performed and recorded with such jazz artists as Clark Terry, Al Cohn, Red Mitchell, Phil Woods, Bill Goodwin, Dave Liebman, Kevin Mahogany, Paquito D'Rivera, Peter Erskine, and John Goldsby. He was a prizewinner in the 1972 International Gaudeamus Competition for interpreters of contemporary music, and has been the recipient of several jazz composition grants from the Ohio Arts Council and the National Endowment for the Arts. He joined the Eastman faculty in 1973, and was instrumental in designing both the graduate and undergraduate curricula for Eastman's jazz studies program. Many of his students have been heard in the big bands of Count Basie, Woody Herman, Buddy Rich, Maynard Ferguson, Thad Jones/Mel Lewis, Chuck Mangione, and Maria Schneider, have become successful in the Los Angeles television and film music industry, and are on the faculties of jazz programs in many of the world's leading music schools.
From 1994 through 2002, Dobbins was principal director of the WDR Big Band in Cologne, Germany. Concert, radio, television, and tour projects under his direction included internationally acclaimed soloists such as Clark Terry, Dave Liebman, Randy Brecker, Gary Bartz, Kevin Mahogany, Art Farmer, Steve Lacy, Paquito D'Rivera, Mark Feldman, Clare Fischer, Peter Erskine, the Kings Singers, and Katia and Marielle Labeque. In 2002 he returned to the Eastman faculty, while continuing work as guest director with the WDR Big Band as well as with the Netherlands Metropole Orchestra in Hilversum. Advance Music publishes Dobbins' compositions and arrangements for big band, chamber music combinations, and solo piano. Jazz education programs worldwide have adopted his volumes of transcriptions of classic jazz piano solos and jazz textbooks for use in their courses.